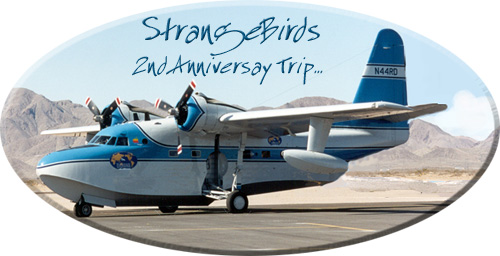 The Albatross adventure continues for us, Mr. & Mrs. Steve McCaughey, as our 2nd Wedding Anniversary approached, we fretted how we could possibly find the time and resources to attend the Albatross Fly-In again in Boulder City. Just as last year at that time, we were so busy with our growing businesses that we were heartbroken we could not get there to celebrate our First Anniversary with our Albatross family! So as the weeks drew nearer to the February date, we lost more and more hope again, for the second one... but then, one afternoon, while standing in our office, Steve and I heard the unmistakable roar of round engines soaring low and slow... it wasn't the S-2 that we were used to hearing as it flew out of Rhonerville (our local airport and hangar for our C120: FOT) for CDF fire operations... we looked out the front door and there in the sky on final approach to Rhonerville was an Albatross!
We see lots of Strange Birds flying in the airspace around us, but never an Albatross! Steve quickly jumped in the truck and drove over to the airport. He arrived just as the beautiful bird taxied to the terminal. He pulled into a parking spot and turned around to see Swede Gamble, our wedding "minister" climbing out of the Albatross! Following him were the owner of the Albatross, Reid Dennis and his Crew Chief, Andy Macfie and a local Fortuna resident who was "just being dropped off". Swede was so shocked to see Steve there, and asked "What are you doing here?" Steve laughed, "We live here! The question is what are you doing here?" He explained about the drop off as he introduced Steve to Reid and Andy. The Albatross Fly-In came up during their conversations and they asked Steve if we were going. "Due to the business, lack of time and resources, probably not." Then Reid offered, "...If you can be in San Francisco next Friday morning by 9 AM, you and your wife have an open invitation on my Albatross to go to the Fly-In... we'll be back by Sunday!"
Well, needless to say, the magic of those words were almost too unbelievable to realize. Steve came back to the office announcing we were going to be celebrating our 2nd Anniversary flying both to and from the Fly-In in an Albatross that following weekend. We made arrangements with Andy the next day for where to meet and when then made hotel reservations in Boulder City. After hanging up the phone with the hotel reservationist, we stopped and stared at each other, speechless, then hugged with tears in our eyes from the incredible, unimaginable event that had just developed "out of thin air", literally.