During the Week of the Albatross Splash-In (February 2nd-11th, 2001) near Boulder City, Nevada, we, Steve McCaughey and Mary Jahn, are to be betrothed in flight over Lake Mead aboard an Albatross on February 3rd! This wonderful strange bird, the "Gitmo Ghost" is owned by Dennis Buehn. It has been lovingly restored by Dennis from the boneyards! She is painted in her Navy colors with her serial number 927 proudly displayed on her nose!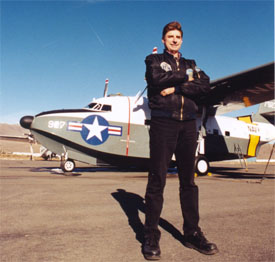 During Thanksgiving weekend, we met Dennis (pictured above) to begin making arrangements for this extraordinary wet, wild and wonderful wedding. The phenomenal sight when arriving at their hangar and office was every seaplane enthusiast's dream come true! There out on the tarmac were row after row of Albatrosses and other Strange Birds! What a sight to behold... A few of the old HU-16 Albatrosses were in restoration process or upgrading or ,as in the case of the "Gitmo Ghost", in a state of perfection ready to roll off the tarmac, climb into the blue sky and land with a huge splash in a nearby lake!
Thanks...
for sharing our dreams as just a couple of Strange Birds!

---
One of our Strange Bird contemporaries,
Jimmy Buffett, puts it best in his song:
Half fast and seldom seen
He don't blip the radar screen
On the deck below the dune
Under the commander's moon
Strange bird from a different nest
Flying low not like all of the rest
God only knows where the strange bird goes when he's flying
Everybody's trying to find him
But they don't know where to start
The ornithologist lady says that he has wings on his heart
Chorus:
Strange bird from a different nest
Flying low not like all of the rest
If you can't catch him you can't name him
If you can't see him you can't claim him
Stay on the ground or he will shoot you down
Wings on his heart, he's a strange bird
Frequent flyer, seldom seen
High above the Caribbean
In my day I've met a few but he's the strangest bird that's true

But he's in love with the lady of the waters
And she lives somewhere up around Cheauxvan
He's gonna circle high above her runway of love
Until she gives him her permission to land
Chorus:
Strange bird from a different nest
Flying low not like all of the rest
If you can't catch him you can't name him
If you can't see him you can't claim him
Stay on the ground or he will shoot you down
Wings on his heart, he's a strange bird
Watch out girl, he's a strange bird
Strange bird flying low
'Cross the Gulf of Mexico
Strange bird not like all the rest
Watch out girl he's a strange bird
Shoot you down, he's a strange bird
It's a bird, it's a plane, it's a strange bird
Strange Bird
By: Jimmy Buffett, Jay Oliver
1989