Shopping...


Flight Shop- more good deals during tough times!
Aerobatics Videos
Flying Boats... Feature Series!

Information...
About Us




Ordering



StrangeBirds Forum



Photography



Links



Contact


Air Shows & Events...
Air Show Schedules 2008



Clear Lake Splash In 2007



Golden West EAA Fly-In 2008



RV-8 Building


Adventurous Aviators
Bush Pilots of Alaska



Steve Fossett



Clint McHenry



Samuel Johnson



Sean O'Keefe and Victor Lebacqz



Patrick Dullanty



Strange Birds Wedding



Anniversary Adventure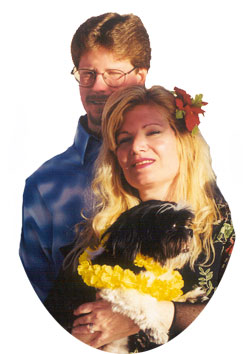 Steve and Mary were married by Swede Gamble, FAA Inspector aboard the "Gitmo Ghost", Dennis Buehn's beautiful Grumman Albatross on February 3, 2001 . There were six Albatrosses, a Beaver and several Cessna 185's in the water for the wedding held at the annual Albatross gathering in Lake Mead and Boulder City, Nevada. In doing so, they are the first couple documented to be married in a flying boat in flight!

Steve grew up in Florida, an aviation Mecca, where he spent the first 35 years of his life surrounded by seaplanes, aerobatic aircraft, airlines and general aviation of all kinds. When he was ten years old he typed over two hundred letters to every airline he could get and name and an address for to ask for their advice of how to groom himself being a pilot to be able work for them when he was of proper age. To his pleasant surprise many of the airlines responded with letters from their vice presidents, which encouragement words of encouragement and good direction for keeping his dream alive. After graduating from high school he entered the Air Force, and where he served in Special Operations with aircraft such the awesome AC-130 Gunship. While in the military, he began following the career of Brian Becker, owner of Pompano Air Center (PAC), which was featured on all of the aviation magazine covers in the late 1980's and early 1990's with big layouts about the Pitts, and the new Extra aircraft for which they were the worldwide distributor. After his military term was completed, he went to work for Becker, working with the Russians as PAC became the worldwide distributor for the Russian aircraft, the Sukhoi SU-26 aerobatics airplane and later the SU-29. Steve has fond memories of spending time with such great pilots as Patty Wagstaff who would frequent PAC for training with Clint McHenry and purchased his Extra 230, which she later traded in for a new Extra 260, which she would fly into history as the first female U.S. National Aerobatics Champion. (This aircraft now hangs in the Smithsonian Air & Space Museum.)

Florida's well developed aviation economy and rich aviation history provided a wealth of opportunities and experiences for Steve. He witnessed the changes with the oldest airline in history, "Chaulks", which operated daily flights from its terminal at Watson Island. After Hurricane Andrew, Steve was one of the relief pilots, flying water and supplies to the devastated homeless thousands in Homestead with Angel Flight. He also helped Kermit Weeks' crew with the clean-up of Kermit Weeks' Air Museum near Miami, which was demolished by Hurricane Andrew and seriously damaged most of the vintage aircraft within it.

In the year 2000, while the world celebrated a new millennium, Mary & Steve made a pivotal move to the Northern California Redwood Country to start a new life as business owners, photographing the wilderness of the Northwest and promoting their newly formed aviation website, mailorder and consulting company called Strangebirds. Steve holds his single & multi-engine land and sea ratings, and enjoys flying their 1947 Cessna 120 while scouting out photo locations for his large format black & white landscape photography work, which he features on Steve-Anthony.com. He is also a professional photographer for air-to-air photography for magazines, corporations and private individuals. Steve's photography passions continue to grow in video work and with the C120, he's captured incredible footage of the beautiful, rugged Northwest coastline and scenery, as well as the excitement of landing on remote mountain airstrips which drop off hundreds of feet at the end of the runway, river bar landings and tiny coastal airstrips with jagged rocks and crashing ocean waves on either end of the runway.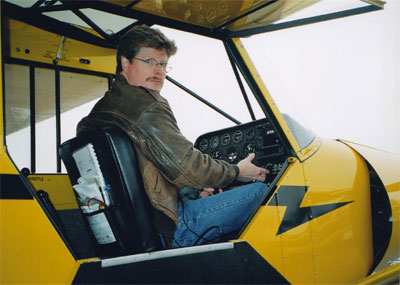 Utilizing his extensive aviation, seaplane and photographic knowledge, Steve has consulted on movies and commercials. He has been instrumental in coordinating services, equipment and flying for these, and continues to be a source of aviation knowledge for specialized aspects of aviation, from seaplanes, taildraggers, bush flying and warbirds to aircraft camera mounts, still and video work for Hollywood and independent film makers and advertising.

Late in 2003, Steve signed on at the Seaplane Pilots Association (SPA) as the sole advertising sales representative for WaterFlying magazine, published by SPA. This opportunity has afforded the unique integration of Steve's extensive aviation knowledge to a huge network of aviation and seaplane manufacturers, services and individuals.

Most of 2005 Steve was filming in Boulder City, Seattle, Alaska and Florida for the newly formed "StrangeBirds Productions", which covers the videography and filming sector of the business. In September of 2005, it was off to Australia for Steve, where along with his ace camera crew, he directed and produced a documentary about the Australian Outback Flying Doctors fund raising event called "Great Circle Air Safari". The completed production is available now in April 2007.

Mary's graphic design capabilities and webdesign work have kept her busy with the websites and advertising work in tandem with Steve's work on WaterFlying and other publications. She and Steve work side-by-side everyday, growing their website, airshow and mailorder company, StrangeBirds.com with new products such as their own line of aviation apparel and more aviation technical information sourcing, along with their ongoing projects in writing, videography, photography and aviation consulting.

In June of 2011, Steve McCaughey became the Executive Director of the Seaplane Pilots Association. Yet, another dream come true for the little "Can-Do" couple, who believes that within each and every person's heart and soul, the "can do" spirit will help anyone attain whatever he or she truly desires to do! ...with plenty of patience and perseverance!!